WE HELP YOU REALIZE THE DREAM OF FLIGHT AND FLY MORE
Serving the Northern California Bay Area Aviation Community
rent-a-plane-bay-area
Hodge Flight Services, LLC is pleased to offer the following aviation services. We continue to evaluate opportunities to better serve you, so visit us often.

Click here

to see a brochure of our services.  If there are other services you would like us to consider please

contact us

. We truly appreciate hearing from you. Thanks!
about-us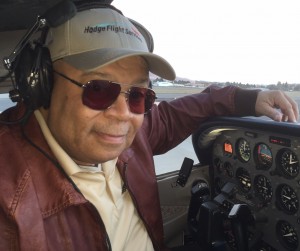 Hello I'm DeWitt Hodge, Owner of Hodge Flight Services, LLC.
I created Hodge Flight Services, LLC. and partner with others to provide services that help you realize the dream of flight, and tackle barriers that limit your opportunities to fly.
Since my first trip aboard an airliner, at age 13, I've been fascinated with aviation.
The U.S. Navy provided me an opportunity to nurture this interest as an air crewman. It was quite thrilling launching off of an aircraft carrier and flying over the worlds' oceans.
After the Navy I focused on raising a family and a career. Somewhere along the way I rationalized learning to fly was too expensive, required too much time, or I was now too old. I was also clueless about how to get started. When I did make up my mind to become a pilot my initial experiences were discouraging.
Ultimately, I connected with the right people. People who share my passion for aviation, and take great delight in helping. With them, flying and developing as a pilot has been a fun and rewarding experience.
I am devoted to paying this gift forward, and look forward to helping you pursue your aviation passions!
Let's Fly!
get-connected

Location and Contact Information
We are located at …
The Concord Jet Center
Buchanan Field (KCCR)
500 Sally Ride Dr. Suite 518
Concord, CA. 94520
Please note:  Visits are by appointment only
Contact us at 925-448-7378,
info@hodgeflightservices.com or complete our email contact form by clicking on this button.
We will get back to you within 48 hours.